Hotel Booking plugin supports the international standard of calendar synchronization (import/export) - iCalendar (iCal). This format is also supported by most online booking platforms like Airbnb, VRBO, etc. You may need to contact the platform that you are interested in to be sure that the ical sync is available in your account.
In short, setting up synchronization is a 2-phase process: you'll need to export a calendar URL to an external channel/channels (to notify them about the bookings made through your site) and import the link from them to your site (to notify your site about the bookings made through the channels).
During synchronization, Hotel Booking plugin downloads bookings from external booking platforms (Airbnb, VRBO, etc.) by the imported links. And all other external channels download the bookings from our plugin by the exported links according to their internal schedules. Thus each online channel gets information form each other about new bookings and creates them in its system to prevent overbooking.

To configure synchronization of your bookings, go to the Bookings tab → Sync Calendars. You'll see a list of all your real accommodations with their unique URLs (the link in the Export column):

Click the Edit button and insert the external links provided by external booking platforms.
Click Add New Calendar and insert all the external links (no limitation) and Update to save the changes:

Now you can export the internal calendar links of your website (the Export column) to other booking platforms following their instructions, e.g:
How to import and export Calendars on Booking.com
How to import and export Airbnb calendars
How to import and export VRBO / HomeAway calendars
Once all your platforms are crosslinked, you can synchronize the bookings manually or enable the automatic sync. To manually sync only a specific accommodation across the channels, click 'Sync external calendars' only under this particular accommodation. To synchronize all calendars for all accommodations, click on the 'Sync all external calendars' button: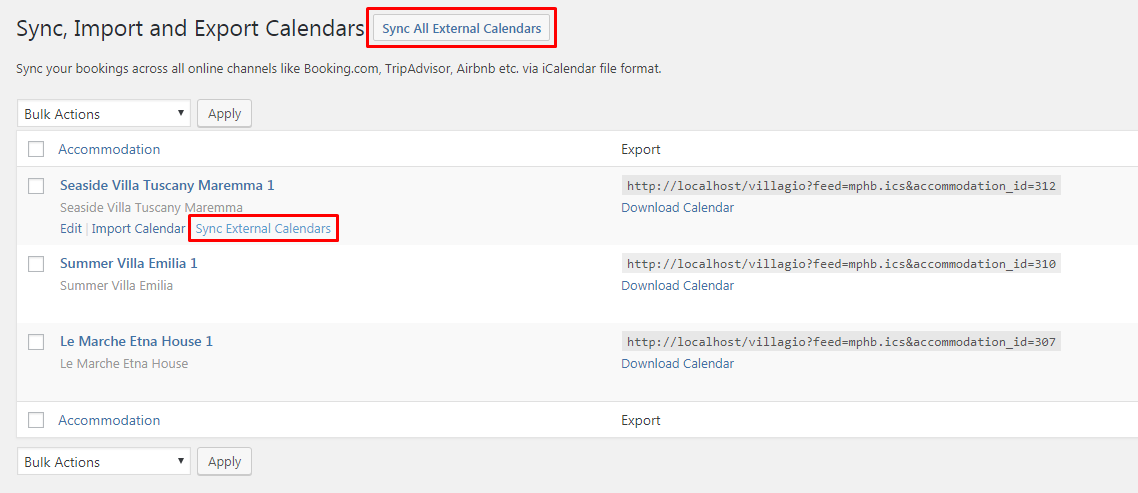 This article describes in detail how to enable automatic synchronization on your website:
Is synchronization automatic?
NB
1 Please, note that other booking platforms may not accept the link if there is no booking in the link. In this way, you should add at least 1 booking of the accommodation and import the link again on other booking platforms.
2. Make sure that your site is not in the maintenance mode before exporting our links to other booking platforms.